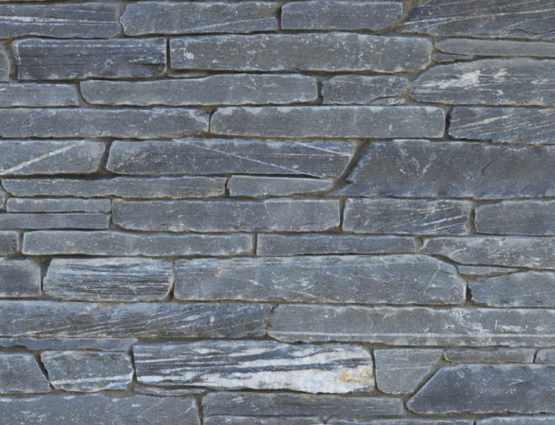 Order Stone Sample
Product Video
Request Pricing
Technical Docs
Architect Resources
Where to Buy
Product Specs
Black Pearl Micro Ledge Veneer Specifications
STONE THICKNESS:
3/4" - 1-1/4"
STONE FACE HEIGHTS:
1" - 3"
STONE LENGTHS:
6" - 12"
STONE COLOR:
Slate grey, or charcoal grey with striking white quartz veins.
STONE SHAPE:
Organic Rectangular
ALL INDIVIDUAL NATURAL STONES
GOOD FOR INTERIOR AND EXTERIOR APPLICATION
AVAILABLE WITH MATCHING 90 DEGREE CUT CORNERS
Description
Based on customer feedback about our popular Black Pearl Ledge Stone, we created a more contemporary profile that encompasses long linear pieces to work well with clean modern architecture. Black Pearl Micro Ledge Stone is a slate grey, or charcoal grey material with striking white quartz veins. Each stone has an approximate 1" to 3" face height and 6" to 12" length. This product is perfect for mid century modern or low slung contemporary homes, or modern commercial buildings.  
Design Inspiration With Black Pearl Micro Ledge
Learn More About Black Pearl Micro Ledge
Used outside, Black Pearl Micro Ledge Stone adds beauty to exterior cladding at the front or back, around garages and entrance ways. It is especially pleasing combined with the wood textures so prevalent in modern and contemporary design. It can work well in small areas to highlight the angularity of pillars, tall windows or doorways, but can also create distinctive feature walls. Carry the theme of a contemporary home throughout the property with landscaping features such as retaining walls, patio areas or outdoor kitchens.
Inside, Black Pearl Micro Ledge Stone can anchor a contemporary design scheme with striking hits of organic beauty. Use it on feature walls in an entrance way, family room or entertainment area. On a fireplace surround, this product can be applied from floor to ceiling to create an attractive focal point for a living room or lounge area.
Natural stone veneer is a great way to add beauty, distinction and value to your home or business. Black Pearl Micro Ledge Stone is an exceptional finish that will last for many years. Rich in texture, yet soft in appearance, it promotes a pleasing neutrality to exterior or interior applications. At the same time it holds its own in the style department.