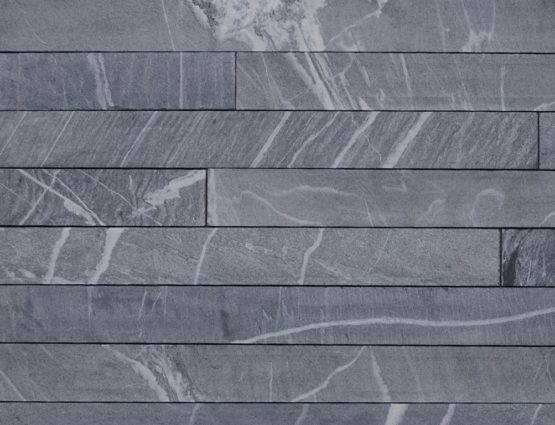 Order Stone Sample
Request Pricing
Technical Docs
Architect Resources
Where to Buy
Product Specs
Ocean Pearl Sawn Ashlar Specifications
STONE THICKNESS:
5/8"
STONE FACE HEIGHTS:
3", 6" and 9"
(Custom Sizes Available by Request)
STONE LENGTHS:
6" to 36"
STONE COLOR:
Slate grey, or charcoal grey with striking white quartz veins.
STONE SHAPE:
Linear Rectangular
ALL INDIVIDUAL NATURAL STONES
GOOD FOR INTERIOR AND EXTERIOR APPLICATION
Description
Natural stone is the go-to material for many architects and designers looking for timeless beauty and a thoroughly contemporary look. Stone slate planking is an exceptional cladding choice on new build exteriors and interiors. It also offers excellent value for DIY renovation and upgrade projects around the home. Our Ocean Pearl Sawn Ashlar is a linear dimensional stone that is smooth cut on all sides. Part of the Ocean Pearl series of products, this blue grey slate features occasional white quartz veins. It is available in 3" or 6" face heights the lengths range from 6" to 36" lengths with custom sizes also available. Each piece of stone planking is 5/8" thick, with a perfectly linear orientation.
Learn More About Ocean Pearl Sawn Ashlar
On outdoor elevations, Ocean Pearl Sawn Ashlar can be used to create striking accents on a front facade or to frame architectural details for a coherent visual theme. This material mixes well with wood, glass, metal, concrete and other organic or textured surfaces while maintaining a cool, sophisticated tone. Use it around entrance doors for emphasis and demarcation, or create a memorable treatment around a feature window.
This slate stone material can also be used for dramatic effect in outdoor entertainment areas – on an outdoor fireplace surround, for example, or as outdoor bar area and kitchen island cladding. Durable and good-looking, Ocean Pearl Sawn Ashlar makes a surprisingly practical outdoor surfacing material.

Indoors, Ocean Pearl Sawn Ashlar is just as versatile, lending drama, coherence and elegance to almost any interior design scheme from contemporary to mid-century modern.

Use it floor to ceiling for a dramatic fireplace surrounds or as a striking feature wall in principle rooms. In the kitchen this natural stone is perfect for cladding large islands and backsplashes.

It can also be applied in a localized way for quick hits of visual texture in any room, or to act as a visual bridge on vertical surfaces in transitional areas such as bathrooms and feature walls.

Whether you're in the middle of a new build or looking to spruce up an existing interior or exterior design plan, consider natural stone. Organically beautiful materials such as our Ocean Pearl Sawn Ashlar look great over the long term – and deliver immediate modern design aesthetics.