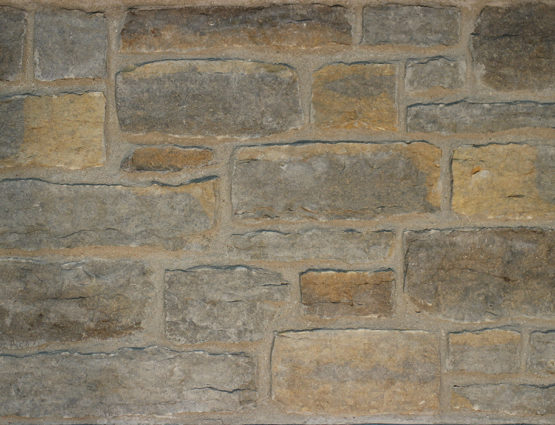 Request Pricing
Technical Docs
Architect Resources
Where to Buy
Product Specs
Sierra Grey Stone Ridge Specifications
STONE THICKNESS:
Sawed 3/4" - 1-1/4"
STONE FACE HEIGHTS:
2″- 7″
STONE LENGTHS:
Random 6" - 20"
STONE COLOR:
Deep Greys, Browns, Blues and Greens
STONE SHAPE:
Linear Rectangular
ALL INDIVIDUAL NATURAL STONES
GOOD FOR INTERIOR AND EXTERIOR APPLICATION
AVAILABLE WITH MATCHING 90 DEGREE CUT CORNERS
Description
Consisting of a blend of deep greys, browns, blues, and greens, the Sierra Grey Stone Ridge veneer is a robust and versatile material suitable for use in both indoor and outdoor settings. With its distinct color palette, Sierra Grey Stone Ridge is ideal for homeowners and builders looking to add a touch of class to their design schemes. Available in lengths ranging between 6-20" and 2-7" face heights, Sierra Grey Stone Ridge veneer has a ¾"- 1 ¼" thickness.
Learn More About Sierra Grey Stone Ridge
The rich colors available in Sierra Grey Stone Ridge bring a touch of country to any project. If you are looking for a rural feel, then look no further. Reminiscent of the stunning mountain range from which Sierra Grey draws its name, the warm tones present in this veneer will add light to almost any room.

When used outdoors, Sierra Grey Stone Ridge compliments a wide range of color schemes including browns, blues, and greys. Consider using this product as cladding on an exterior wall or column or to brighten up an entranceway. In the garden, Stone Ridge works well as a covering for a retaining wall or to create a natural ambiance in a patio setting.

Within the home, Sierra Grey Stone Ridge works well as a fireplace accent wall or cladding in a rural retreat. Use Stone Ridge to add a feeling of natural splendor to a hallway or entertainment room.