Natural stone makes for an optimal ground cover in gardens and yards. It has a very distinct look, is low maintenance, natural, and can help to draw the various features of any landscaping design into a coherent whole. Flagstone is an easy natural stone material to work with for
do-it-yourself-ers
. It generally comes in flat, thin layers of sedimentary rock such as argillite, quartzite, sandstone, slate and bluestone. Depending on the quality of the sub-soil in your area, a soil base can work well for installing flagstones, or it may be layered over gravel. Preparation of the site is key to achieving a great look that will last for a long time, consult with your local K2 Stone representative prior to installation. Flagstone is typically priced from $9 per square foot, consult with a K2 Stone representative about how much stone you'll actually need for the project you have in mind. Complement the look of your yard by using it in conjunction with other materials such as concrete, bricks or pavers. Here are a few of the most popular applications for natural flagstone:
Entryway Hardscapes
Defining and enhancing a home's entryway can be achieved with flagstone hardscaping. The plan can integrate steps, planters, even seating with other architectural details for maximum effect. A flagstone walkway can reference stone cladding on the home's exterior for example or, used on pillars, integrate the front entrance with the rest of the house. This is a simple upgrade that can turn a basic doorway into a welcoming entrance to your home.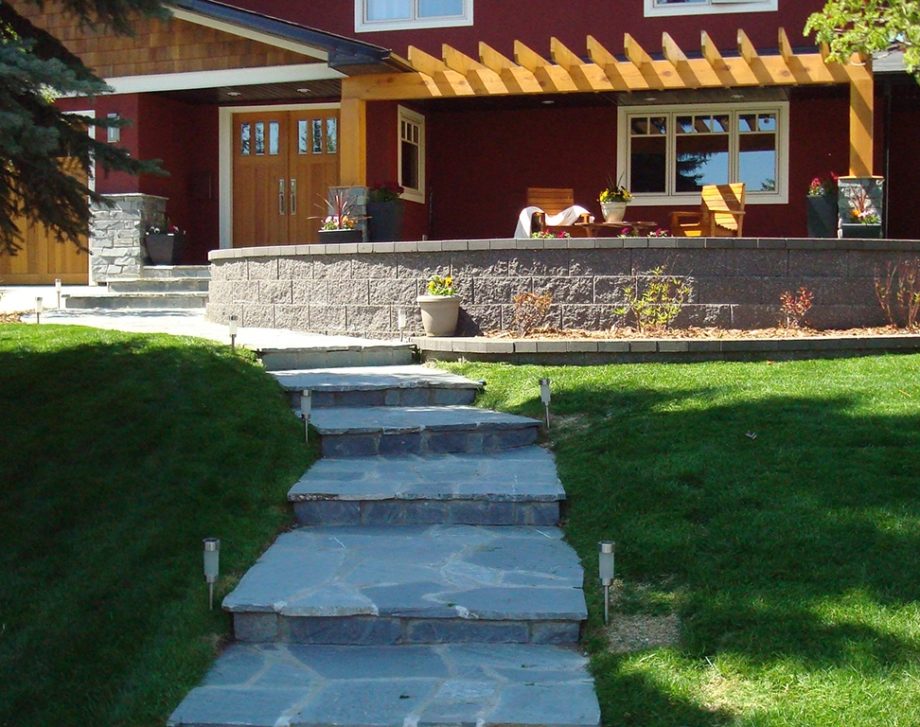 Ocean Pearl Flagstone installed as a stone walkway.
Stone Walkways
Leading up to entrance points or making transitions from one part of the property to another obvious for users is the primary function of stone paths. This is a traditional use for flagstone and it is charming. Consider planting ground covering vegetation – moss or creeping thyme – between the stones to soften the rock edges and create stability. The standard for walkways is for 2″ thick stones with some variance – try to obtain stones that are as even and smooth on the surface as possible.
Ocean Pearl Flagstone installed as a pool hardscape.
Pool Surrounds
Quarried in diverse earth-toned colors and textures, flagstone is a natural for a pool deck with its non-slip surface, moisture resistance, heat resistance and durability. Flagstone in slate or other monochromatic shades (bluestone, quartzite) is especially striking in contemporary in-ground pool setting designs.
Ocean Pearl Flagstone installed on a backyard patio.
Outdoor Patios
In addition to ground cover for a patio, flagstone can be used to incorporate built-in stone features such as a fireplace or BBQ into an outdoor entertainment area. Or, use it to create outdoor "rooms" in different areas of the garden. Flagstone can be laid in random regular (a more modern aesthetic) or irregular patterns (for traditional and country cottage looks) according to the project.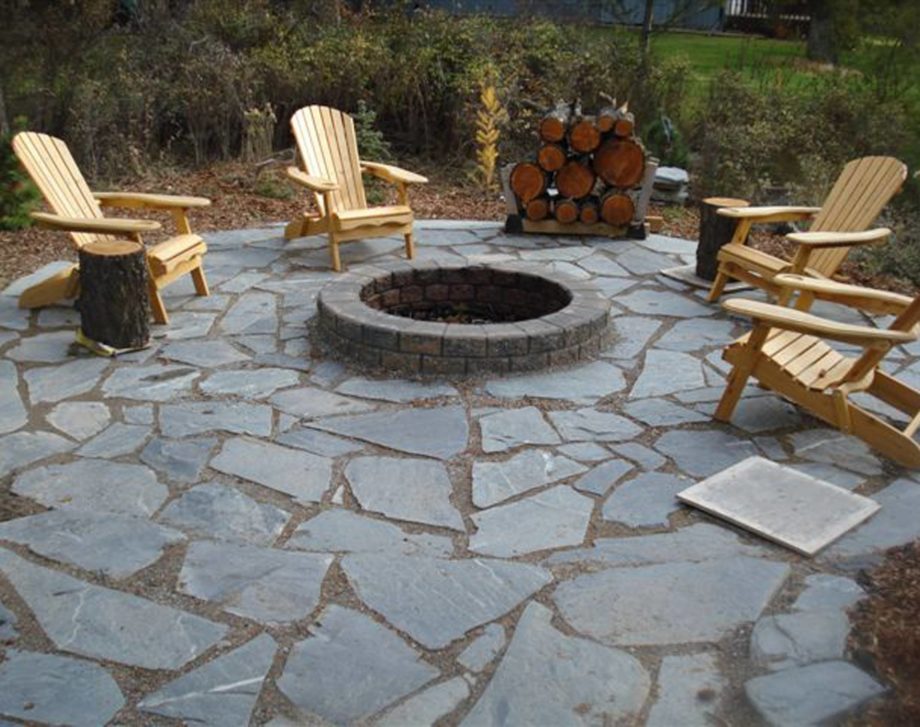 Ocean Pearl Flagstone installed around a backyard firepit.
Outdoor Firepits
For families (or anyone really), the addition of a backyard fire pit is one of the most fun and rewarding projects you can complete. Outdoor firepits are great for gathering around on summer or early autumn evenings, and can provide a real focal point for all ages entertaining. A flagstone surround provides an attractive and safe staging ground for either a sunken firepit or one that's raised with a stone ledge. The idea of a DIY project using stone materials might be initially daunting. But you don't need to be a master mason to work with flagstone. It's very forgiving, and with careful preparation and some expert advice (and perhaps a strong helper or two), anyone can incorporate this good looking and hard-working material into their outdoor landscaping strategy. It's a quick and easy upgrade that will give years of pleasure.