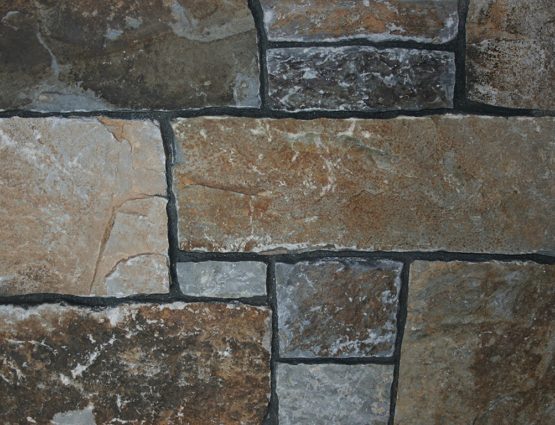 Request Pricing
Technical Docs
Architect Resources
Where to Buy
Product Specs
Moose Mountain Ledge Stone Veneer Specifications
STONE THICKNESS:
3/4″ – 1 3/8″
STONE FACE HEIGHTS:
2" – 8"
STONE LENGTHS:
3" - 18"
STONE COLORS:
Light to dark brown tones, combined with touches of grey.
STONE SHAPE:
Rectangular
ALL INDIVIDUAL NATURAL STONES
GOOD FOR INTERIOR AND EXTERIOR APPLICATION
AVAILABLE WITH MATCHING 90 DEGREE CUT CORNERS
AVAILABLE IN 4" FULL BED MASONRY PROFILE
Description
Moose Mountain is quarried from a mountain top rock formation located in Northwest Montana. The smoky grey, brown and tan tones of Moose Mountain create one of the newer varieties of Chief Cliff stone offered today.
Learn More About Moose Mountain Ledge Stone Veneer
Used on the exterior of homes and outbuildings, Moose Mountain Ledge Stone's natural colors and finish can enhance and tie together all other building materials. Use it around entrance ways, on columns, porticoes and porches to highlight the front door, creating a welcoming entry. It also works well on exterior garage walls, retaining walls, fireplaces and patio areas. Natural stone building materials add beauty and durability to your family's outdoor living spaces.

Inside, Moose Mountain Ledge Stone creates a feeling of class and luxury, especially in open concept spaces. It's neutral range of colors and simple organic texture works well with most finishing materials. The rough, strong finish of the Moose Mountain Ledge Stone in contrast to the smooth face of wood cabinetry and glossy quartz counter tops, creates a harmonious and nature filled design. With its potential ruggedness, the stone ties together beautifully with timber beams, creating a rustic or traditional appearance. Create a sense of grandness by using the stone to surround fireplaces in great rooms, living rooms and dens. This product can also be used to great effect in specialty areas such as bars, wine cellars or spa-like bathrooms and powder rooms. One could also use it to add impact to transitional areas such as foyers, stairways and landings.

Applied sparingly but strategically, Moose Mountain Ledge Stone natural veneer offers great bang for the buck. This makes it beloved of builders, Interior and Landscape designers and DIY renovators of all kinds. Use it anywhere you wish to add warmth and sophistication to your home's design scheme.